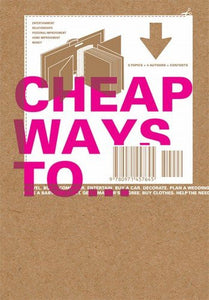 Cheap Ways To...
Regular price
$9.99
Sale price
$6.49
---
Cheap Ways To... isn't really about being cheap. While recycling is good, this book doesn't advocate using coffee grounds twice, avoiding flushing the toilet or taking advantage of other people's generosity. The fun, innovative ideas found in Cheap Ways To... are designed to help you make your resources stretch a little further while avoiding, or escaping, the pitfalls of mass consumerism and credit card debt. The book is really about embracing a simpler life and growing in your appreciation of the little things.
Get tips on cheap ways to ... Travel. Buy a computer. Entertain. Buy a car. Decorate. Plan a wedding. Buy groceries. Have a baby. Find a pet. Get a Master's degree. Buy clothes. Help the needy. Invest. And many more.
By Jason Boyett, Margaret Feinberg, Josh Hatcher, Katie Meier.
Table of Contents:
ENTERTAINMENT
Cheap Ways to Entertain a Toddler
Cheap Ways to Scrapbook
Cheap Ways to Make a Costume
Cheap Ways to Carpe Diem
Cheap Ways to Buy Art Supplies
Cheap Ways to Throw a BBQ
Cheap Ways to Entertain Yourself with Media
Cheap Ways to Host a Retreat
Cheap Ways to Gift Wrap
Cheap Ways to Entertain Your Friends
Cheap Ways to Go On a Ski Vacation
Cheap Ways to Prepare to Travel
Cheap Ways to Enjoy Your Trip
RELATIONSHIPS
Cheap Ways to Plan a Creative Date
Cheap Ways to Say, ìI Love Youî
Cheap Ways to Propose
Cheap Ways to Plan a Wedding, Pt.1
Cheap Ways to Plan a Wedding, Pt.2
Cheap Ways to Plan a Honeymoon
Cheap Ways to Have a Baby
Cheap Ways to Help the Needy
PERSONAL IMPROVEMENT
Cheap Ways to Buy Clothes
Cheap Ways to Look ìCheap-Chicî
Cheap Ways to Exercise
Cheap Ways to Develop a Library
Cheap Ways to Stay Educated
Cheap Ways to Get Published
Cheap Ways to Get a Bachelorís Degree
Cheap Ways to Get a Masterís Degree
HOME IMPROVEMENT
Cheap Ways to Give a Room a Facelift
Cheap Ways to Create Home DÈcor
Cheap Ways to Furnish a House
Cheap Ways to Buy and Maintain Your Car
Cheap Ways to Decorate a Wall
Cheap Ways to Buy a Computer
Cheap Ways to Make Your Own Household Products
Cheap Ways to Revitalize Your Coffee Table
Cheap Ways to Find a Pet
Cheap Ways to Buy Groceries
MONEY
Cheap Ways to Invest
Cheap Ways to Call Long Distance
Cheap Ways to Be in Debt
Cheap Ways to Start Saving
Cheap Ways to Get Health Insurance
Cheap Ways to Get Legal Help
Cheap Ways to Make Extra Money
Cheap Ways to Live Below Your Means
Paperback: 179 pages
Publisher: Relevant Books (January 28, 2003)
Language: English
Product Dimensions: 0.7 x 0.5 x 0.1 inches